Families at TBC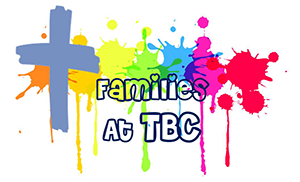 Hello! During this second lockdown we are going to meet on Zoom. Please find a link below for this Sundays Families at TBC Zoom session that will be starting at 10:30am.
We will be having a mixture of activities during these weekly sessions over the coming month. Some weeks may have a sciencey feel, another we will be doing some baking together, for others we will hopefully send you outside so keep an eye out for what is coming up next!
This week at families at TBC we will be baking together & considering Isaiah 49:16. If you are able to join us please collect these ingredients:
110g butter
55g caster sugar
1 large egg
110g plain flour
100g chocolate chips
This will make about 10 smallish cookies, if you have more children or would like to make more please double up. Don't make them ahead of our zoom session though as we will make them together and hopefully they will be ready to enjoy at the end of the session!
The choc chips can be substituted for raisons or something similar to your liking. Please get in touch if it would be helpful for me to provide these ingredients for you by Thursday and I will deliver these for you. For dairy or gluten free options please also get in touch unless you have a suitable alternative recipe for cookies! Look forward to see you on zoom at 10:30 on Sunday! x
Please can parents stay with their children and interact as they will get way more out of it if you are there and for safeguarding purposes also parents need to be present, thank you!
There are some additional items required to take part if you can bring them along to our Zoom session please:
A Bible, pens & paper
If you don't have any of these bits and would like me to drop these around to you please let me know by Thursday night and I will happily drop over to your door what is required!
https://us02web.zoom.us/j/85390822861?pwd=WEZDM3ptcFFzaXM4TitDVzVVdTBEZz09
We can't wait to see you and encourage one another in our relationship with Jesus.
Blessings from Hev & the 'Families at TBC' team

---