Family Cafe

Whilst our family soft play cafe is currently closed we are offering Pop-Up play sessions bookable in advance. Please see the info below.
We will continue to review in line with Government guidance when we can safely reopen the Cafe. Please keep an eye on here and the Facebook group for the latest updates.
Thanks for popping by!
Best wishes from the Cafe team!
Booking for soft play sessions is now available as follows:
Thursday and Friday
9.30am, 10.45am, 12 noon
45 mins per session
Max 2 bubbles per session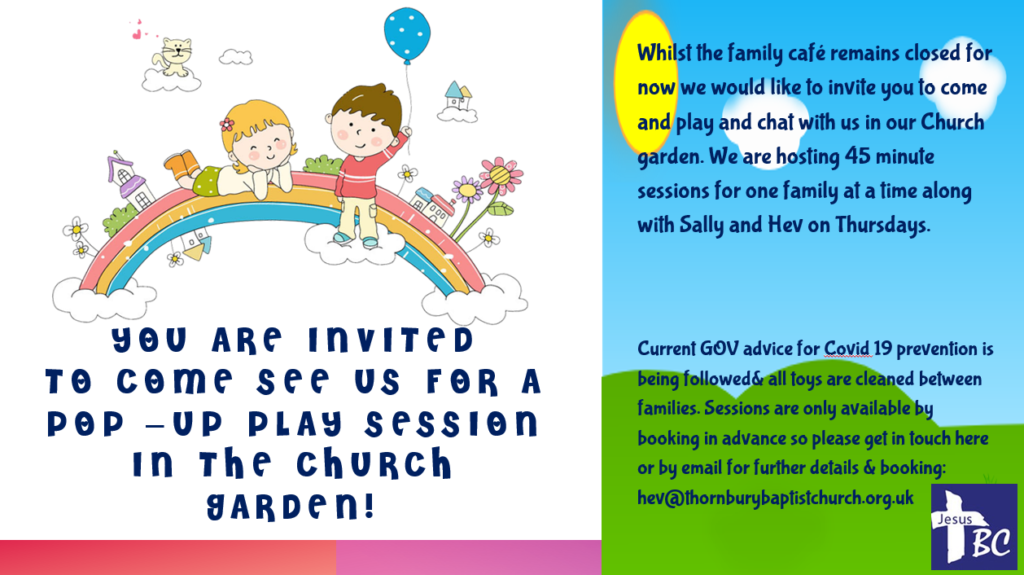 More info for coming to a pop-up play session
With government advice changing regularly this info will also be regularly updated, so please check here for latest details
PLEASE:
Only come to our activities id you have not shown any symptoms of illness in the last 14 days
Follow all latest guidance set out by the government including maintaining social distancing
Stay patient and adhere to the rules we set out to keep everyone safe
Wash your hands regularly and maintain personal hygiene
For everyone's safety we will:
Take every precaution to ensure our visiting families are safeRisk assess all our activities according to the latest government guidelines regarding COVID-19
Deep clean all our surfaces and resources between each visiting family
Provide you with the information you need to safely access activities
Good to know:
The toilets are not available at the moment so please go to the loo before you come!
Please bring your own refreshments as required
There will be water play so if you are happy for your child to join in with this bring a towel and maybe some dry clothes

---
---