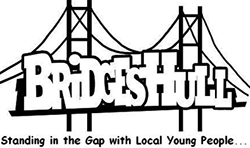 Bridges Hull
Nik and Tiff Strode
Set up in 1997, we seek to support local young people and their families who live on North Bransholme; a deprived council estate on the most northern edge of Hull. Our youth centre is situated in the very heart of North Bransholme and is well established across the community.
Our vision is to bridge the many gaps in the lives of the young people we work alongside in terms of their education, social development, life experiences, life opportunities and access to services. 
Currently our work involves:
Weekly one to one and small group drop in sessions.
Weekly walk and talk one to one sessions.
Weekly food parcels for our most vulnerable families.
Weekly online interactive chat across three evenings and a youth quiz.
When needed we are also available to advocate on behalf of the young people to ensure that they have access to appropriate services such as housing, sexual health, substance misuse and mental health support.
We hope that the shared use of the Pennine building by ourselves and the church will mean that people are drawn to God through all of the activity going on there. The Pennine has a charity shop, drop-in sessions, a job club and, hopefully the re-establishment of a weekly service (mid week) soon.
We currently have a vacancy for a part-time youth worker.