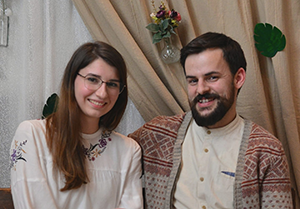 Szekeleyudvarhely Baptist Church
Who are we?
We are a Baptist Church family based in the town of Szekelyudvarhely in the county of Harghita in Transylvania, Romania. 36,000 people live in the town most of whom are Hungarian, making it the third largest population of Hungarians in Romania. We aim to grow in love of Jesus together and to share that love with the community in which we live. Harghita is very rural and as well as the Church in Szekelyudvarhely we have several smaller churches in the surrounding villages, including St Martins.
How is TBC involved?
TBC have supported us since shortly after the fall of communism in 1989. That support has been varied and invaluable throughout the years. In the early days TBC helped us create a new church building, reach out to orphanages, provide clothing and food to the poor as well as much needed encouragement. Recently we have been blessed by annual visits from Mike and teams of young people working with us on Children and Youth activities during the summer and taking part in church life. TBC have also given gifts to help us meet the needs of the poor in our community. There was a flood of Christian organisations from the West shortly after the fall of communism, most are long gone but the ongoing support of TBC working in partnership with us means so much.